We're Here to Help You Build a Brilliant Workforce
Workforce Solutions to Attract, Acquire and Develop the Leaders of Tomorrow
At DeVryWORKS, we understand that one of the biggest challenges of any business is not only hiring skilled people but also providing opportunities to help them grow in their careers. DeVryWORKS seeks to truly understand your organization's training and development needs so we can offer solutions to help you acquire and retain strong talent, plan for succession, and close the skills gap.
Career Advisory Board 2018 Annual Survey
Talent activation, as a practice, centers on an employer deliberately designing experiences throughout the employee lifecycle – fromrecruitment to retention – to unleash employees' pre-existing strengths, energize performance and drive growth. An activated workforce is highly engaged, productive and loyal, qualities that can contribute to enhanced collaboration and encourage development as a competitive advantage.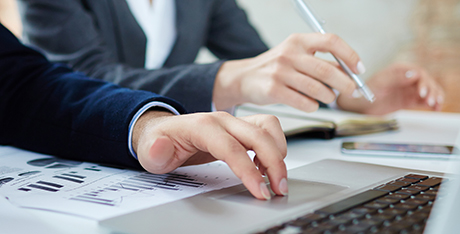 DeVryWORKS Career Ready Program for Veterans
Are you Career Ready? DeVryWORKS Career Ready is a specialized program designed to support Veterans through a job search or career transition by providing personalized one-on-one career coaching and an online course. Through Career Ready, Veterans receive coaching and job leads, develop resumes, fine tune interviewing skills, and establish a strategic career path.
Learn More About DeVryWORKS Career Ready Program for Military And Veterans
Develop and Maximize Talent with Employee Development Solutions
We provide tailored solutions for employee training and development to unlock the potential of your workforce
Our unique training and development solutions are designed to align with your business objectives and create pathways for success through employee education
Tap the leadership tools and resources you need to build a brilliant workforce, develop the leaders of tomorrow and contribute to the success of your organization
Learn more about DeVryWORKS talent development initiatives
Skills Gap Solutions to Drive Innovation
We deliver custom solutions to help you close the skills gap within your workforce as technologies, markets and industries evolve
With an engaged and prepared workforce you can help your organization thrive while developing leaders within your organization
Learn more about how DeVryWORKS can help close the skills gap
Personalized Talent Acquisition Solutions to Help Your Organization Grow
We provide your business with access to our diverse pool of qualified candidates from DeVry University's national student and alumni population
Interact directly to find a blend of talent year round from our non-traditional student population, including a mix of minorities, adult learners, military and veterans from six graduating classes annually
Take advantage of a variety of recruiting resources like on-campus and virtual career fairs, webinars, and exclusive recruiting events that can be tailored to your needs
Our military and veteran hiring initiatives give you the opportunity to hire highly skilled and disciplined candidates with military experience
What Our Partners Are Saying
"The DeVryWORKS team is engaging and responsive. DeVryWORKS  understands our business goals and the needs of our team members. Their unique ability to look at different ways to solve a business issue vs. selling a product truly differentiates them in the marketplace."
Donna Herbel, VP Training and Culture Development, Perkins and Marie Callender's